Recently, Oakwood Nursing Home (where my gram lives) had a door contest. Every resident decorated their door, and the nursing home staff thought it would be fun to turn it into a light-hearted competition.
They posted this picture of the winning door, and I noticed it was Gram's door.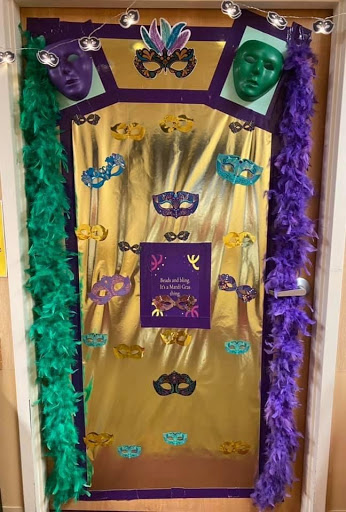 Mary Cayte Blocker, Director of the nursing home, told me she wheeled Gram around to look at all of the doors and vote and Gram picked her own door for being the best. I was initially so shocked—Gram never, ever chose herself first. She was taught to always put everyone else before herself and never knew she counted.
Unfortunately, Gram isn't alone. Generations of women have been taught—usually subconsciously—that they weren't allowed to have a voice, an opinion, take time for themselves, or spend money on themselves. These women gave everything to everyone else at the expense of themselves.
I believe many women were—and still are—left feeling quite empty and exhausted most of the time. That's what happens when you feel like you can't choose yourself first.
When I told Mary Cayte I was shocked, she said, "All of the residents picked their own door first when voting." This really made me laugh. But I also thought, "Wow, it takes us until we are towards the end of our lives to start picking ourselves first." Why does it need to be like this?
It's a great lesson for so many of us. You are not selfish for putting yourself first. You have the right to choose yourself. You are allowed to love yourself.
Give up the attitude of "giving whatever it takes" and replace it with "giving what I can within the context of my health, well-being, finances, and family." And you don't have to wait until you are 97 to start doing so. Start now.
Taking good care of yourself first means the people in your life get the best of you rather than what's leftover. I'm so proud of Gram for having the opportunity to pick herself first. It's time for you to start choosing yourself first, too.