How to Find—and Be Thankful for—the Positive in Our Lives
Last week, I talked about gratitude and some of the ways I implement it in my life. But because gratitude can directly affect our lives in such big ways, I feel like I have more to say on the topic.
Gratitude is a practice, not a concept. And like any practice, it's not always easy. We live in a culture that has an obsession with negativity and drama, so it's super-easy to get caught up in how "bad" things are. Pair that with an ever-present desire for more, more, more, and it can seem that our lives are just never quite good enough.
Regardless of our life circumstances, even (and especially) when they're difficult, if we can stop, pay attention, and look for them, we'll find that there are always things to be grateful for—if we CHOOSE to be.
For years, I've heard Oprah talk about keeping a gratitude journal—her goal being to write down five things each day she's grateful for—and the profound effect it's had on her life.  
So, I took Oprah's advice, plus inspiration from the book I spoke about last week, Hidden Messages in Water, and began my own gratitude journal practice. I started with a modest daily goal of just writing down three things I was grateful for; I'm currently up to ten.  Here's an example of a recent journal entry.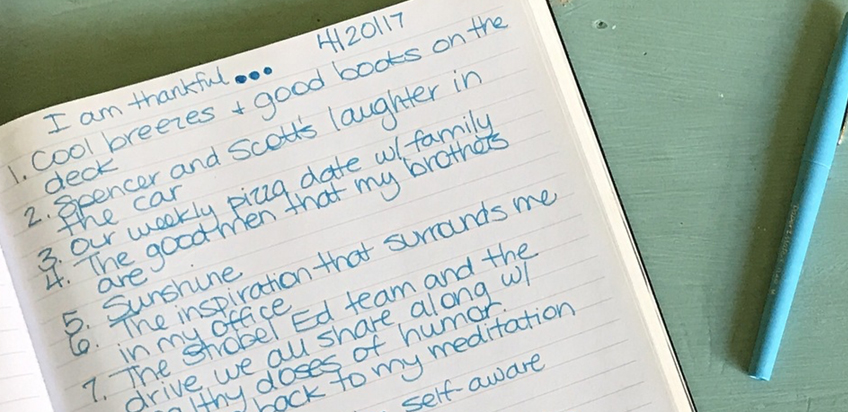 Almost every single day, I write down ten things that I'm thankful for, and I've seen how it's created a shift in my life. Now, I intentionally pick out all the good I see, rather than focusing on all the bad. I've trained my brain to scan for the positive—most days. In fact, I've found that the real power of the gratitude journal is when I'm able to make my 10-item list even on my worst days.
Back when I was still working as a teacher, I proposed this idea of gratitude to a few of my colleagues. We'd found ourselves feeling quite down about the challenges and struggles of the average school day. So, we started a group and called ourselves "The Grateful 5." Every day, we'd send an email around our little gratitude group, each including five things we were thankful for. Throughout the school day, these "gratitudes" would find their way to our inboxes. So, by the time the last bell had rung, I'd been gifted with twenty wonderful moments of gratitude from my teacher peeps! I can't tell you how much this helped to constantly reset me toward positive.   
Gratitude works, because the more we focus on feeling grateful, the more we have to feel grateful for. Many of us have experienced this personally, and recent scientific studies have confirmed that gratitude can have significantly positive effects on our health, our moods, our productivity, and our relationships.
There are many things in life that we know are good for us: exercise, eating healthy, regular sleep habits, drinking lots of water, meditation, etc. But it's not the knowledge that benefits us; it's the practice.
The amazing thing about gratitude is that there's no "right" way to practice being grateful. You can choose to keep a journal, send a daily gratitude email or text to someone, use positive affirmations, reflect on gratitude in your quiet time of prayer or meditation, or ask others what they're grateful for (one of my personal faves!). It's simply taking that time to focus on what we're grateful for that empowers us, calms us, and helps us remember what matters most in life.