I have a story to tell you and it's about a stray beach dog that I met earlier this year in Cancun while my hubby and I were on vacation. I want to tell you this story because:
It warms the heart (and we could all use a feel good story about right now).
When you have a dream, you do what it takes to make it a reality.
When I'm on my yearly vacay with my hubby, I always start my day with a five mile run along the beach. For some reason, on my first beach day, I decided to do the loop around the resort.
As I was approaching the left side of the resort, I saw a sweet little dog under an old tarp in the jungle-like marsh outside of the resort.
I'm an animal lovin' fool
I'm an animal lovin' fool, so of course I had to stop and greet this sweet girl. This pic is the first day I met her. I used a soft voice to coax her out from under the brambles and the tarp.
Afterwards, I went straight to my room and said, "Scott, I met a stray beach dog so we need to go to breakfast ASAP and get her some food." I stole food from the resort and wrapped it up in a napkin, hid it in my beach bag, and took off looking for her. We found her at one of the ramshackle massage tents that the locals set up at the end of the resort.
This is also where I met Abigail and Ana, who had tried to care for this little doggy and they told me her name was Luna. Abigail had rescued Luna from the streets where her owner was going to place her in a trash bin with her other litter mates. Abigail lives in a small apartment and couldn't keep Luna there so she brought her to the beach to live.
Luna was fed from time to time from others staying at the resort, and Abigail and Ana fed her fruit. But she didn't have dog food, a real home, hadn't been spayed, and had never received her shots. Abigail simply didn't have the money to properly take care of her, but she was doing the best she could. Each night though, Abigail and the rest of the massage therapists left the torn up tent and headed home and Luna was left alone.
My husband and I started to visit Luna each day and before long she began to join me on my beach runs. She'd trollop alongside me and I just loved it.
By the third day, Luna would dart a quarter mile down the beach to our lawn chairs and she'd  jump into my lap and hang out each day. Everyone on the beach would watch her morning jaunt.
[/et_pb_text][et_pb_image src="https://kimstrobel.com/wp-content/uploads/2020/09/LUNA_KIM_BEACH.jpg" title_text="LUNA_KIM_BEACH" _builder_version="4.4.8″][/et_pb_image][et_pb_text _builder_version="4.4.8″]
I fell in love with her that week.
And of course, I completely fell in love with her that week. So when it came time to leave, Scott was dealing with a very sad wife who was having trouble leaving Luna behind.
I made one last visit to tell her goodbye and since I had made friends with the massage tent ladies, I told them if they couldn't care for her, I would be happy to give her a permanent home in the U.S. We became Facebook friends so I could keep in contact with them once I returned home. Abigail put me in contact with Eveylyn from a rescue in Cancun to help us begin getting Luna to a place of safety, and eventually to the U.S.
Evelyn arranged for Luna to have her shots and get everything needed to prepare her to make the trip to the U.S. When Luna left the beach to get her shots, there was a mix up with the vet and they accidentally spayed her, which meant she couldn't return to the beach with an open wound. She had to be sent straight into foster care at Evelyn's. It ended up being divine intervention because the very next day all resorts shut down due to COVID and Luna would have been left behind and starved.
Because of COVID, we couldn't get Luna on a flight here so she was cared for by Evelyn and Samia in Cancun. Evelyn works full time for Renacer Contigo Cancun rescuing dogs. They took her in and fostered her from March until the end of July. She was one of 32 dogs Evelyn was caring for!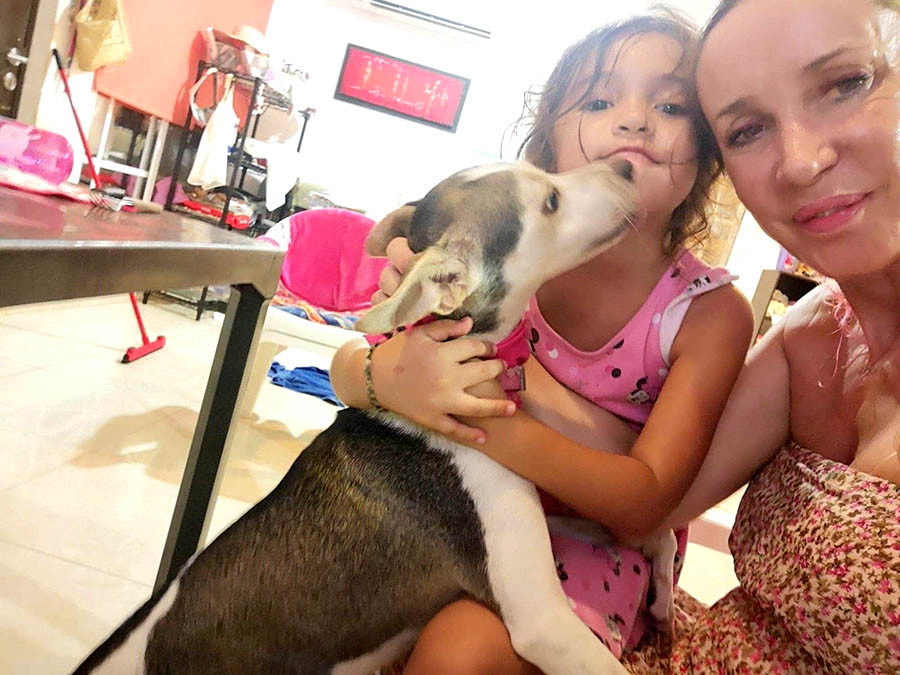 But finally after months of not being able to figure out how to get Luna here, Evelyn found a place that helps transport animals. It was pricey, but so many people on social media were invested in the Luna story and suggested I start a Go Fund Me campaign to raise the money for her flight. We raised the money within 28 hours!
So on July 27th, our little girl was taken to the Cancun airport to begin her three day trip.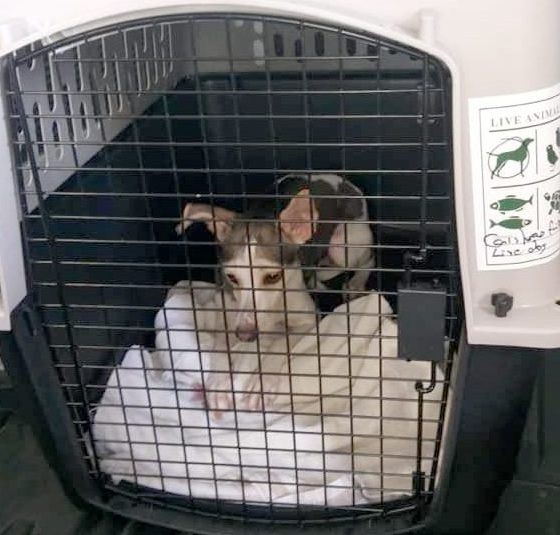 She was supposed to fly from Cancun to Mexico City on Monday and stay the night there. Then she was supposed to fly to Dallas on Tuesday and then to Indianapolis on Wednesday, but the temperatures were too high in Dallas and she couldn't get on that flight. She ended up stranded in the Mexico City Airport for three days. And on Thursday, she flew from Mexico City to Chicago.
I took work off on Wednesday so I could go to Indianapolis and pick her up, but since she got re-routed to Chicago on Thursday and I was unavailable, two of my high school classmates stepped in to help. Molly lives in Wisconsin and drove down to Chicago to pick her up. Poor Luna was covered in feces from the terribly long trip. Molly cleaned her up and washed her cage and drove to Lafayette to meet Tonya and Lagina, my other friends.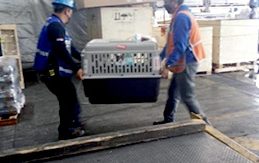 I think Luna is thanking Molly in this picture as they do the exchange.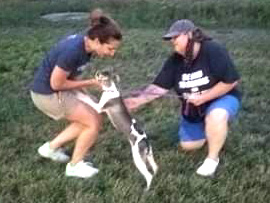 Lagina and Tonya drive her the last leg to Tell City.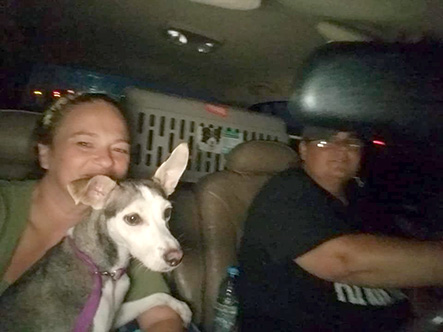 The night Luna arrived in Tell City, IN. She came right over to greet me.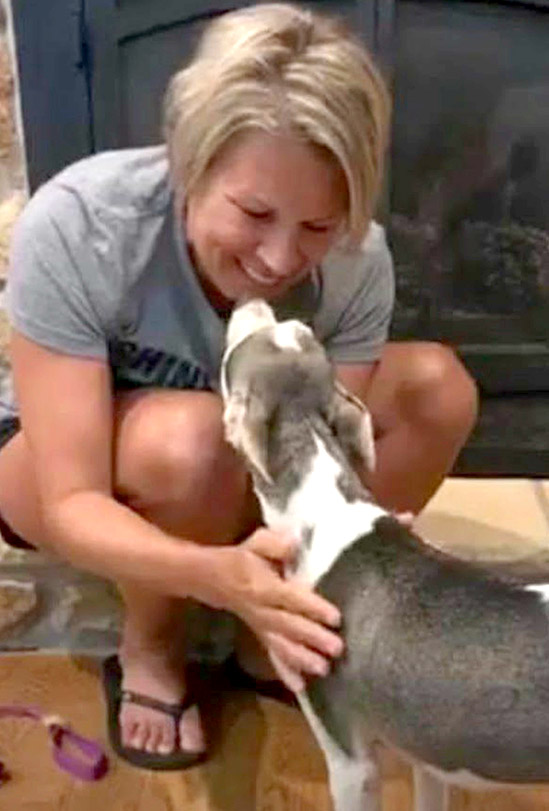 It's  been a joy watching Luna settle into her new life at home with Scott and I. She loves to play with the other dogs and pretty much spends every evening asleep on Scott's lap. I knew from the moment I saw her on my morning run that she needed me, and we needed to help her. After months of struggling to get her safely to the U.S., I couldn't be more happy to have her home with me.
---
Are you ready to step into the journey of becoming YOU?  Click here to apply for my 90 Day program. Once you've answered the questions, I'll review to see if we are a good fit for each other and we can schedule a call. 
---